About Sweety! Interface

The Sweety! Interface with switches connected to it allows a disabled person to control the computer remotely.
There are 5 types of jack sockets. The switches, purchased separately, should be selected individually to meet the needs of a specific user.
Keyboard functions or mouse clicks can be assigned to each of the switches. The Interface connects to any computer via Bluetooth. The effective range of the device is 10 meters. It does not require an external power source thanks to a built-in battery that can work for an average of 5-6 hours. It is also possible do work with the Sweety!Interface during charging.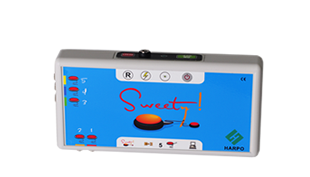 Specifications:
Dimensions: 17 x 3,4 x 8,55 cm
Bluetooth connection
Battery life: 10 hours working, charge cycle 5 hours;
comes with battery charger
black or white case